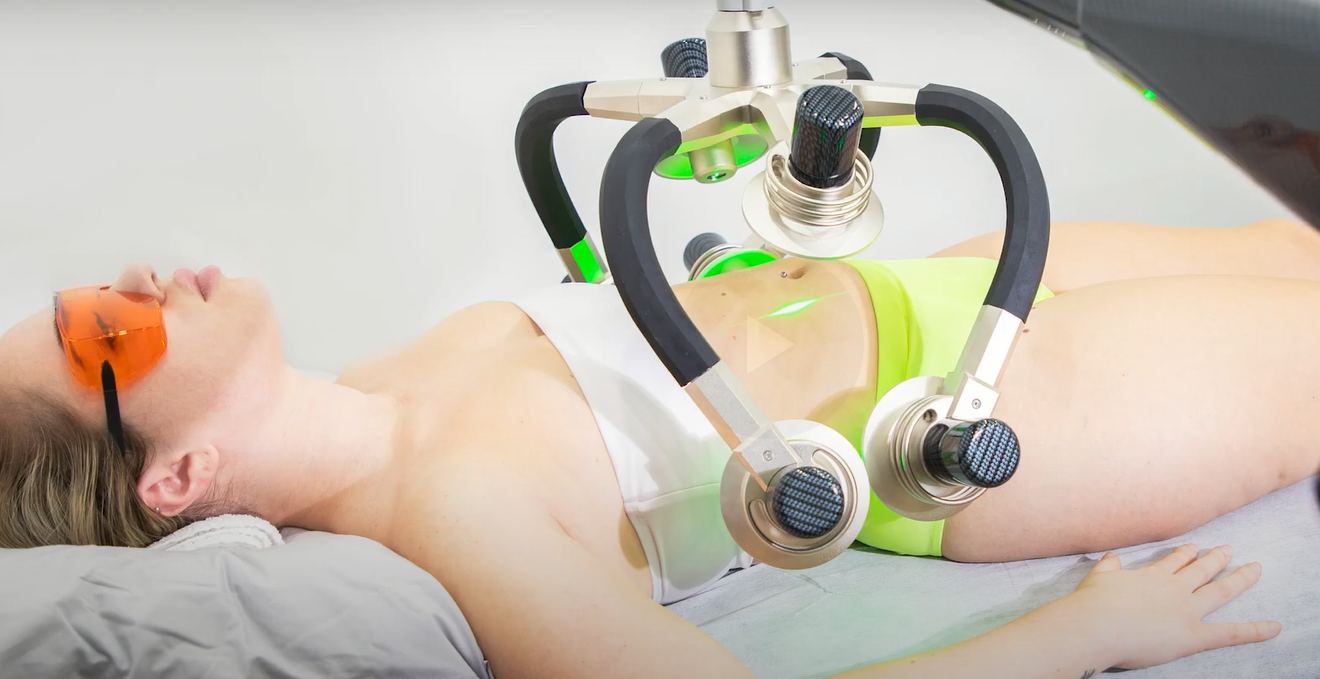 If you've struggled with your weight, you intimately understand that achieving your ideal body can be a real challenge. Maybe you've lost some weight through diet and exercise, but just can't seem to lose those unsightly pouches of fat around your midsection and thighs. Perhaps you've even considered invasive surgical procedures like liposuction to finally feel confident in your body.
Watch the videos below and learn how the technology works and how patients are able to reduce target areas of stubborn fat and cellulite.
Wouldn't it be great if there was something that could rid fat from targeted areas of your body without incisions, anesthesia, risks, and lengthy recovery times? Great news—there is! Low level laser therapy is a safe, painless, effective alternative to liposuction that targets areas of your body that may be resistant to fat loss. Today, we're going to discuss this cutting edge technology and why it might be the solution you've been looking for.
How does low level laser therapy help with weight management?
Laser weight management has helped thousands of people manage their weight, reduce body measurements, and remove cellulite deposits. Low level laser therapy involves applying low-powered lasers externally to the skin. The lasers work their magic by penetrating under the surface of the skin to liquefy fat cells. When the zapped fat cells collapse, their content is naturally released from your body, resulting in fat loss. Even better, you won't feel a thing. Laser weight management is quick and painless and when the treatment is finished, you can get dressed and go about your day with no down time.
Laser weight management is ideal for people who are looking to contour their body or remove stubborn pockets of fat around areas such as their waistline, arms, hips, chin, and buttocks. With its ability to break up stubborn fat and tighten skin, laser therapy can help you get closer to or achieve the toned body you've always dreamed of.
Watch how Low Level Laser therapy (LLLT) devices interacts with fat cells in your body
What kind of results can I expect?
During a six-week period that includes eight laser weight management sessions, many patients lose an average of three to six pounds per week and reduce their measurements by 12 to 18 centimeters. Incredible, right? You'll be able to see and feel changes in your body immediately—all without surgery, medication, or dieting.
By adopting or maintaining a healthy diet and exercise program during and following your laser treatments, you can ensure those pesky fat cells won't collect fat again. In fact, many people are so thrilled with their results, they use their shapely, new body as inspiration and motivation to embrace a healthier lifestyle.
The answer is a resounding "yes!" In fact, low level laser therapy is recognized as one of the safest means of reducing body fat and measurements when performed by a qualified healthcare practitioner. It has been approved by the FDA and Health Canada and has undergone thorough clinical testing for many different applications and uses. Unlike liposuction, laser weight management is drug free, non-surgical, and has no side effects. It also doesn't result in scarring, require general or local anesthesia, or require any preparation or recovery time.
People of all ages, body weight, or with a pre-existing condition can feel completely safe receiving this treatment. Did we mention a treatment can be completed in as little as 30 minutes? You can make a quick pit stop for a session during your busy day and pick up right where you left off immediately after completion.
Watch now: Body contouring made safe and easy
Is laser weight management right for you?
With no downtime or side effects, laser weight management is an ideal choice for people looking to kick those stubborn pounds to the curb. If you're tired of calorie counting or feeling uncomfortable in your clothing, this could be the solution you're looking for. As with anything in life, it's always important to do your research and ask a qualified medical professional any questions you might have.
If you're curious about laser weight management and want to find out if you'd be a good candidate for the treatment, don't hesitate to reach out to Ohr Medical today.